TAPE by Stephen Belber at Theater On The Edge
CREW SPOTLIGHT: Monica Mulder
by Marco DiGeorge
From the first moment I met Monica Mulder, I could feel the artistic passion inside of her. She was always so enthusiastic and ready to jump in to the next new thing.
Monica's commitment to her art and craft have propelled her into wonderful performances. In class, I knew Monica would be the one to take a risk and dive all the way in to whatever we were working on. Even when she had hesitation, she would do it anyway, and that risk-taking is evident in her work.
Recently, I had the privilege of watching Monica perform in a rendition of This Is Our Youth (directed by Jeremy Seghers). I was so proud of her continued vulnerability as she intimately wove it throughout her portrayal of Jessica.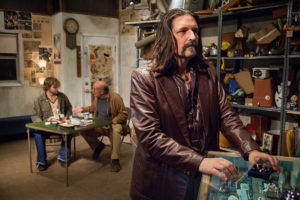 In addition to acting, Monica also has a passion and talent for photography. She was our official photographer for American Buffalo last fall, and she did an outstanding job! She has the ability to capture just the right moments in just the right way. It's captivating! And it gave us amazing memories for us to keep and cherish forever.
Once again, I called on her to photograph TAPE. I was curious is she would be able to capture the same "magic" she had with American Buffalo. And wow! Once again, she was able to produce incredible moments from the show!
Monica is available for both photo shoots and headshot sessions, and just look through our photos to see her quality.
I am so incredibly proud of the work she does, and so happy that she is part of our creative team!
--------------------
View Monica's work in our Gallery section of the website. And then make sure to come out and see TAPE in action! There are still a few seats remaining seats for the show, running now through March 26th.
Link: TICKETS FOR TAPE
Contact Monica at mulder.monica@gmail.com or go to www.monicamulder.com