Our Shows
The follow are our upcoming shows. Please check back periodically as this list will be updated as new shows are added to the schedule. Please contact us if you have any questions. We look forward to seeing you at one of our upcoming shows!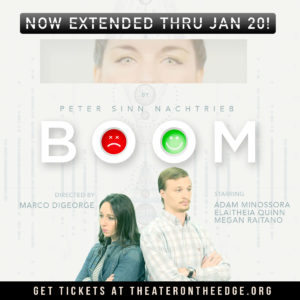 BOOM
by Peter Sinn Nachtrieb
"Sex to Change the Course of the World"—a grad student's online personal ad lures a mysterious journalism student to his subterranean research lab under the pretense of an evening of "no strings attached" sex. But when an alleged major global catastrophic event threatens to strike the planet, their date takes on evolutionary significance and the fate of humanity could hang in the balance. An epic and intimate dramatic comedy that explores the influences of fate versus randomness in the course of one's life, and life as we know it.
Our Season Three Spring Show To Be Announced
We are currently working on our lineup for the remainder of our  2018-2019 season, and we will be announcing our spring play soon. Please stay connected with us on social media and check back for updates.
The follow are our past shows. Please click on a show to read more about its production and to read any reviews available. Please contact us if you have any questions. We look forward to seeing you at one of our upcoming shows!
Become a Sponsor
DONATE TO THE THEATER
Our theater is a volunteer non-profit organization which relies on the financial support from our sponsors. If you enjoy our productions, please consider donating to keep our community artistic venture thriving.
ADVERTISE IN OUR PROGRAM
Want to advertise your business and at the same time support our theater? We offer the ability to purchase an ad in one of our programs which will be handed out during the run of a show.
SPONSOR AN ACTOR
Our actors volunteer a tremendous amount of time and hard work for our productions, and they do it for the love of the art. We offer the ability for you to sponsor them to help offset their hard work and to show your appreciation.
LEARN MORE
Latest News
Theater On The Edge is extending its run of BOOM by Peter Sinn Nachtrieb for six more performances through January…

THEATER ON THE EDGE OPEN CASTING FOR 2019 PERFORMANCES. We will be conducting an open casting call for our 2019…

Theater On The Edge has received 17 nominations in 8 different categories for the 2018 BroadwayWorld Orlando Awards! Please take…
Our Partner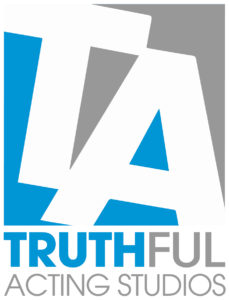 Our Master Meisner Program is a deep-level training program that offers solid tangible results for actors of all experience levels.
MORE INFO