WRITE A REVIEW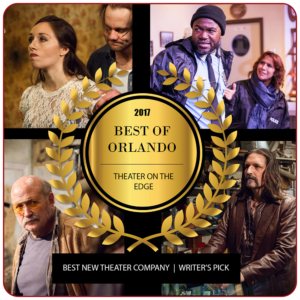 To write a review for the theater, please use one of the links below. These reviews really help us, and it's great for potential patrons to be able to read the thoughts of others who have experienced our shows.
So, if you could take a few minutes, please go to one (or more) of these links and share your thoughts. Google is our main resource for new patrons, so that one is most important to the studio! For the others, to make it easier, you can simply copy what you wrote on Google 🙂
Theater On The Edge, Inc. is a 501(c)(3) non-profit organization.
LEAVE A REVIEW ON TRIP ADVISOR
Our Vision, Mission and Goals
v
OUR VISION
To unite humanity through the arts.
m
OUR MISSION
The mission of Theater On The Edge is to provide quality stories that explore the struggles of the human condition and create thought-provoking conversation.
Art has the ability to connect with a viewer in a personal way. When we share that experience as a community, it leads to human-level conversations that can bring people together, heal wounds, and overcome social boundaries.
We believe in equality and acceptance for all, and we strive to promote love and harmony through Theater On The Edge as well as with our sister company, Truthful Acting Studios.
Latest News
THANK YOU!! We Appreciate You ♥ What an amazing experience it has been bringing Say Goodnight, Gracie to the stage…

A Message From Our Artistic Director: Hello Most Wonderful Patrons: I wanted to give you an update about our theater…

ORLANDO – TOTE is re-staging Ralph Pape's Comedy-Drama Say Goodnight, Gracie for a full second run, opening September 17th and…